All church activities are suspended due to the current health situation.  The Minister and Elders are available for any pastoral care needs. If you wish to contact them, please call on 07 4982 1405, 0408756364 or send an email to pearsonrulz@bigpond.com 
Family worship commences at 10.00am with Holy Communion on the 1st and 3rd Sundays.  Following the Children's and Family message, the children move  in to the church hall and engage in activities i.e. craft, colouring in, puzzles.   Morning tea is shared together after the worship service each week. On the 1st Sunday of the month everyone is invited to stay on after the Service for a "Bring and Share" lunch together.
Bible Study – Thursday 9:30am-11:30am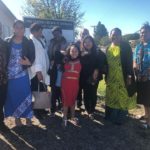 On the cnr Yamala and Borilla Streets. 
The Uniting Church in Australia was formed on 22 June, 1977 by the union of the Congregational Union of Australia, the Methodist Church of Australasia and the Presbyterian Church of Australia